If objects tell a story...
December 15, 2000


To launch Inside The Archive, Susan Yelavich lectured on the fragile nature of collections.
As Director for Public Programs at the Cooper-Hewitt National Design Museum (Smithsonian Institute) and author of Design for Life, Yelavich is keenly aware of the challenges facing todayıs museums, conservators and curators in keeping their collections vibrant and resonant. Moving through a variety of objects ranging from delicate white lace, to fine crystal glasses, to enameled pictorial buttons, she considered possible curatorial interfaces for understanding the function and context of these objects. Although removed from the realm of utility and placed on display within the Cooper-Hewitt, everyday household items have the potential to reveal intimate and social narratives. Associative arrangements form idiosyncratic yet revealing timelines telling stories of public and private desires, tastes and lifestyles.

Beyond the preservation and curation of more traditional objects Yelavich touched upon the dilemmas of collecting the present. Acknowledging that the internet is one of the most important innovations of our time, how should the museum document or collect websites and other forms of digital design? Given the rapid pace of technological change should software and hardware also be archived? If so, how are the perimeters of this relatively new process of collecting circumscribed? These questions at the forefront of contemporary curatorial interest remained open for debate.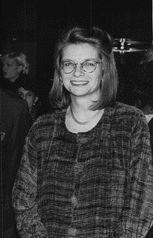 Susan Yelavich (New York) is Assistant Director for Public Programs at the Smithsonian's Cooper-Hewitt, National Design Museum. She is the author of two books ­ Design for Life (1997) and The Edge of the Millennium (1992) as well as numerous articles including Narrative: A Security Blanket for the Nervous Nineties (ACD Journal 1999).